HAYLOU Set to Unveil Spectacular Lineup at IFA Berlin 2023!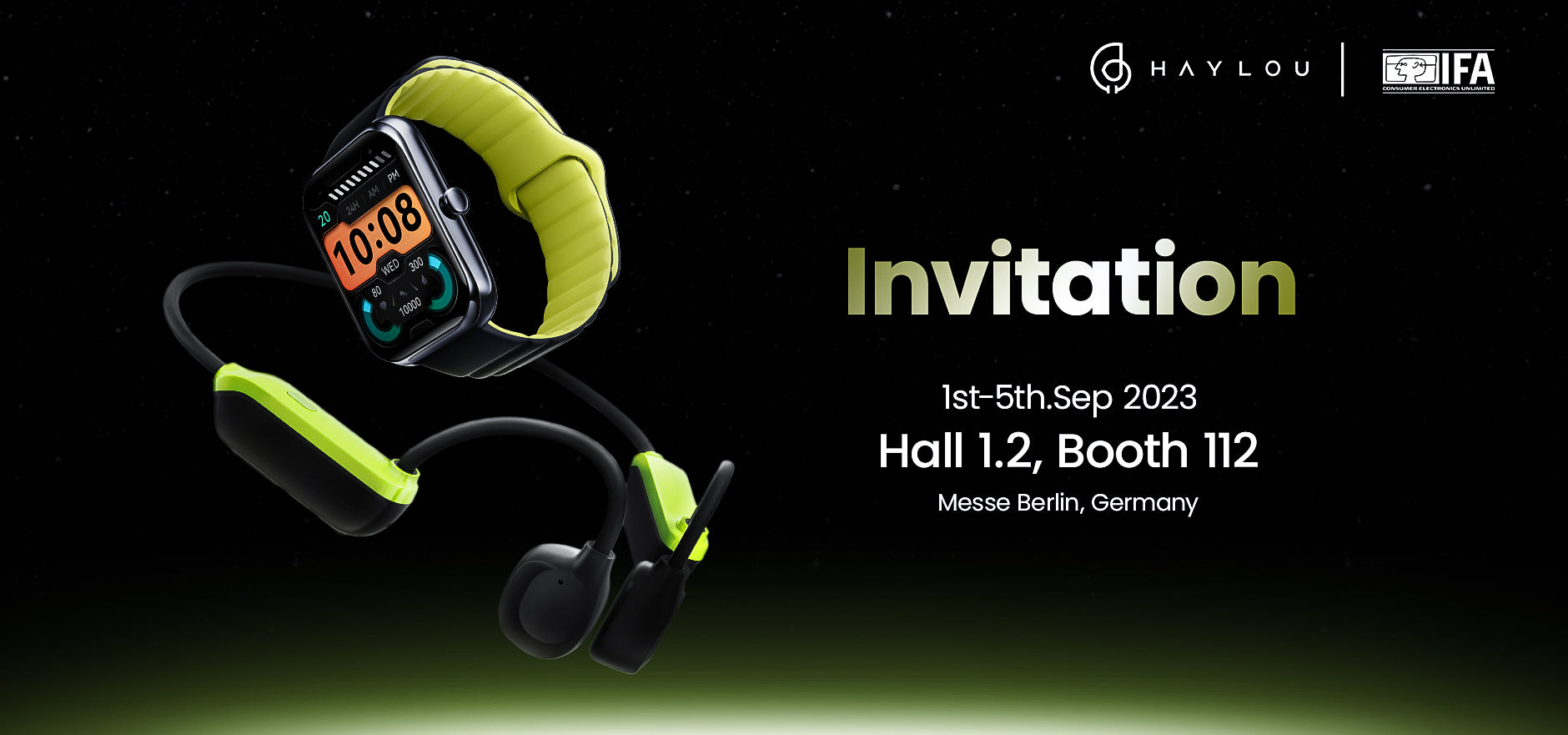 Berlin, Germany - HAYLOU, the trailblazer in wearable technology, is thrilled to announce its eagerly anticipated presence at IFA Berlin 2023. As a global leader in smartwatches, bone conduction headphones, and wireless earbuds, HAYLOU is all set to unveil a captivating lineup of products that will redefine the audio and wearable experience.
Visitors to IFA Berlin 2023 can expect to be immersed in a world of innovation and sophistication at HAYLOU's booth. Our booth, located in Hall 1.2 at Booth 112, promises to be a hub of excitement and innovation. Here's a sneak peek at what awaits you:
1.HAYLOU PurFree Lite: Sounds Rich, Budget-wise
Witness the evolution of sound with the remarkable HAYLOU PurFree Lite bone conduction headphones. Experience unparalleled comfort and sensational audio quality as you explore a new dimension of music and communication.
2.HAYLOU RS4 Max: Elevate Every Move
Discover the limitless possibilities of the HAYLOU RS4 Max smartwatch. It's not just a timepiece; it's a revolution. Experience an Immersive 1.91" HD display, and seamless seamlessly Bluetooth(5.3) call that elevates your lifestyle.
3.Beyond Expectations: HAYLOU's Stellar Lineup
That's not all! Prepare to be dazzled by our other star products, including the HAYLOU S35 ANC and our beloved TWS earphones. Each product boasts exceptional craftsmanship, unmatched performance, and a touch of HAYLOU's signature innovation.
HAYLOU's participation at IFA Berlin 2023 promises to be a remarkable convergence of technology, style, and innovation. Join us from Fri, Sep 1, 2023 – Tue, Sep 5, 2023 at Booth 112 in Hall 1.2, and experience firsthand the future of wearable technology.
Be prepared to be amazed. HAYLOU is changing the game!
For more information, please visit our website at https://haylou.com or contact us at kristi.cheng2018@gmail.com.
About HAYLOU:
HAYLOU is a global leader in wearable technology, dedicated to delivering revolutionary products that enrich people's lives. With an unwavering commitment to innovation, quality, and customer satisfaction, HAYLOU continues to redefine the boundaries of what technology can achieve.